Antonio Banderas biography
Antonio Banderas, whose real name is totally sound like Jose Antonio Dominguez Bandera (without the "s") was born in southern Spain on Aug. 10, 1960 in an ordinary middle-class family - his father was a policeman and his mother worked as a teacher in a local school. As a child, Antonio wanted to be a footballer, because in school football was one of his main hobby, in which he, moreover, quite succeeded. However, priorities have shifted a little boy, after the age of 14, he looked musical "Hair" / Hair / performed by local theater company in Malaga. Impressed, he enrolled in acting school and joined one of the theater companies of the city.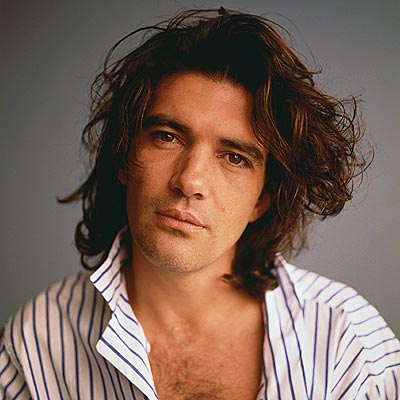 Banderas debut on the big screen in 1982 - Pedro Almodóvar invited him to his film Labyrinth of Passion / Laberinto de pasiones /, his first fee amounted to about 100,000 pesetas. Actor continued to appear in a large number of Spanish films of different scale, but that tape Almodóvar contributed significantly to professional growth of the actor. So in 1985, another career boost Banderas betrayed tape Almodóvar "Matador", and soon went out a few of their collaborative paintings.
By the early '90s Banderas decided to fight their way outside the Spanish kinomatografa - the first film had won some fame in other countries, was "Mambo Kings" / The Mambo Kings (1992). The first serious step in Hollywood was the role of the lover of the hero of Tom Hanks in the Oscar-winning "Philadelphia". Then it was "Interview with the Vampire" with Tom Cruise and Brad Pitt, "4 rooms" by Quentin Tarantino and "Desperado" by Robert Rodriguez, brought long-awaited Banderas popularity worldwide.
From 95 for 99 year Antonio starred in more than 10 paintings, the most popular of which were "Evita" with Madonna, "The Mask of Zorro" with Catherine Zetoy Jones. "Bang the Bone" and "13 Warrior", which was entrusted (judging by the hundred-million budget), high hopes, failed in the commercial and artistic aspects.
In 1995, the set of the film Two - It's Too / Two Much / Spanish director Fernando Trueba kindled love affair between Banderas and Melanie Griffith - actress left him for Don Johnson and Antonio himself parted from his wife, which has been together since 1988. One year later, played a beloved wedding, and after some time they had a daughter.
In 1999, Banderas decided to try himself as a director, taking off his wife in the movie "Crazy in Alabama". The film was greeted by critics with restraint - Banderas was obviously far from the problems of America's 60th years covered in the film, but because its the first pancake to the director's career was successful.
Actors Banderas same career continued to gain momentum - co Banderas and Robert Rodriguez vylivsheesya at the time of the mega-popular "Desperado" was no less successful sequel - the trilogy of "Children of spy greatly loved by audiences all over the world - Rodriguez decided to take this issue on a single tape about young agents in the year, up until the principal actors do not grow out of screen images.
In 2003, Rodriguez took off as much tape 2 with Banderas, who became the concluding work, each in his trilogy - "Spy Kids 3" and "Desperado 2: Once in Mexico," became one of the most anticipated of the paintings.